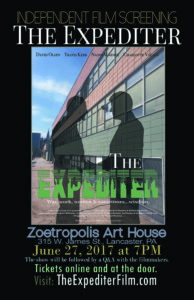 Lancaster, Pennsylvania – May 25, 2017. After two sold out shows, Manhattan and The Villages, Florida, The Expediter, a coming of age indie film set in 1975, will screen next in Lancaster Pennsylvania's very own (120 seat) Art House movie theater The Zoetropolis on June 27th, 2017.
Shortly after graduation from high school in 1975, eighteen-year-old Michael Romano engages in some teenage hijinks that gets him arrested in the New York City suburbs. With his plans to attend college put on hold, his father, the executive in charge of production at a large manufacturing company in Queens, takes him to work and puts him under the wing of Jake Cutter, the company's grizzled purchasing manager whose job is to ensure the factory line never goes down. The war-weary Cutter alleviates the horrors he experienced as a young U.S. Marine during World War II with alcohol, womanizing and a work ethic that is unrivaled. At first hostile to young Michael, who he derisively refers to as Michelle despite Michael holding the unenviable position of expeditor of parts, the two slowly and cautiously develop an indelible bond.

Besides being a soulful coming of age story, The Expediter explores themes such as America's decline as a manufacturing superpower, multiculturalism in the workplace, alcoholism and untreated PTSD from WWII combat.